The online lectures of the EC2U Entrepreneurial Academy continue in the summer semester 2022! The lectures are free and open to all students and young researchers from the EC2U partner universities. Local startups are welcome to join, too.
The online lectures highlight various important aspects of entrepreneurship. They teach the basics, give inspiration, and provide an opportunity to connect with other curious learners across the EC2U Alliance.
Register here: https://forms.office.com/r/A2aES9SSNv
3 – 10 May | Marketing online para emprender
This self-paced online course is provided by SIPPE Career Service at the University of Salamanca
For this e-learning course, you will spend around 10 hours learning about all relevant aspects on online marketing for entrepreneurs. You need at least a Spanish level of B1.
Contents:
Introducción
Posicionamiento SEO
Posicionamiento SEM
Publicidad de display
Social media
ECommerce
Aspectos legales
Plan de marketing online
Please register by 24 April, so that we can give you your personal access to the USAL e-learning portal.
3 May | Design Thinking: An Introduction
Dr. Joann Halpern – Director of the Hasso Plattner Institute New York
This online lecture is provided by the Career Point of the University of Jena
3 May 2022 at 16:00-18:00 CET 
What is Design Thinking? Why is it being adopted by so many institutions? What is the relationship between Design Thinking and innovation? How can you integrate Design Thinking into your daily life? These are just a few of the questions the speaker will address. Examples of Design Thinking in action will be provided in order to help you understand the process as well its innovative potential.
Outline:
Working Outside Your Comfort Zone
Fixed vs Growth Mindset
Core Elements of Design Thinking
Design Thinking Mindsets
Design Thinking in Action
1 June | Digital Entrepreneurship
Prof. Dr. Matthias Menter – Assistant Professor at the Friedrich Schiller University Jena
1 June 2022 at 16:00-17:00 CET

Digital technologies have become a new economic and social force, jeopardizing traditional business models and strategies but also offering new digital entrepreneurial opportunities. Digital entrepreneurship refers to the creation of new ventures and the transformation of existing businesses by developing novel digital technologies or their novel usage. This lecture will discuss the antecedents and consequences of digital entrepreneurship and focus on selected digital technologies that have enabled the growth of the sharing economy.
31 May| Entrepreneurial Finance
Prof. PhD Sorin Gabriel Anton – Professor of Finance at the Alexandru Ioan Cuza University of Iasi

31 May 2022 at 16:00-17:00 CET 
This lecture introduces the theories, knowledge and financial tools an entrepreneur needs to start, build, and harvest a successful venture. The successful entrepreneur must know how and where to obtain the financing necessary to launch and develop the venture. The same successful entrepreneur must know how and when to interact with financial institutions and regulatory agencies to take the venture to its potential and provide a return and liquidity for the venture's investors.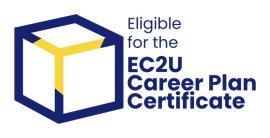 By visiting virtual Entrepreneurial Academy events, you will improve your chances for winning a travel grant to participate in an onsite Entrepreneurial Week at one of the EC2U universities.
These lectures are also eligible for the EC2U Career Plan Certificate, as transdisciplinary input component.
Further information
| | |
| --- | --- |
| | The Entrepreneurial Academy is an offer of the EC2U Alliance to promote entrepreneurial thinking at an early stage in students' academic careers. In addition to a broad variety of online lectures and a simulation game, there will be Entrepreneurial Weeks in Pavia, Iasi, and Jena. EC2U students come together to celebrate transdisciplinary innovation, intercultural teamwork, and entrepreneurial experiences. More information: https://ec2u.eu/for-students/entrepreneurial-academy/ |
If you have any questions, please contact ec2u@uni-jena.de.
Follow EC2U and #EC2UEntrepreneur on social media.